REGISTRATION
General information for online registration
We are happy to invite you to participate to:
STONECHANGE 2016 International Conference (16-17th June 2016, in Marina di Carrara – Italy ) "Stone Sector and Changing Trends", and

PERC TRAINING COURSE on "Mining Standard Reporting" (15th June 2016, in Marina di Carrara – Italy).
This document is intended to provide You with all relevant information you need to proceed to registration to both Events.
Please read carefully before you enter the registration process.
Authors of speeches/presentations for STONECHANGE 2016
In case of a paper/presentation officially selected for STONECHANGE2016, written by different Authors, only one of them will be invited at FREE REGISTRATION FEE (please specify).
Any Author interested in presenting a speech/presentation at STONECHANGE 2016 shall send the Title, the Abstract and Key words using the standard Form (see Call for Papers on website homepage), to the Speeches/Presentations Evaluation Committee (E-mail: papers@stonechange2016.com), not later than 20th March 2016. If selected he will receive a communication before 10th April 2016; after that he shall send the final speech/presentation in Power Point format to the same address before 20th May 2016, for final revision.
Students
Student fees are applicable only to full-time students. Students must provide a proof of their student status (student ID or certificate), certified by the signature of a supervisor and or University secretariat, by e-mail to the Secretariat of the Conference (see contacts). Student registration will be validated upon receipt of the proof of status.

Members of Italian CNG, and EFG, and Members of EFG, PERC, CONFINDUSTRIA MARMOMACCHINE and EUROROC Board, can be registered using the discounted registration fee (see Registration Fee table below). In particular for Members of Italian CNG, APC credits for both Events will be attributed, based on existing Italian legislation.
All other «standard» participants
All other participants, not considered in categories above, shall pay the full "standard" registration fee as described in table below.
Letter of invitation and VISA application
Registered participants will receive a document confirming their registration to the conference and related Invoice for Registration fees. Upon request, the conference secretariat will issue a letter of invitation for visa application.
REGISTRATION FEES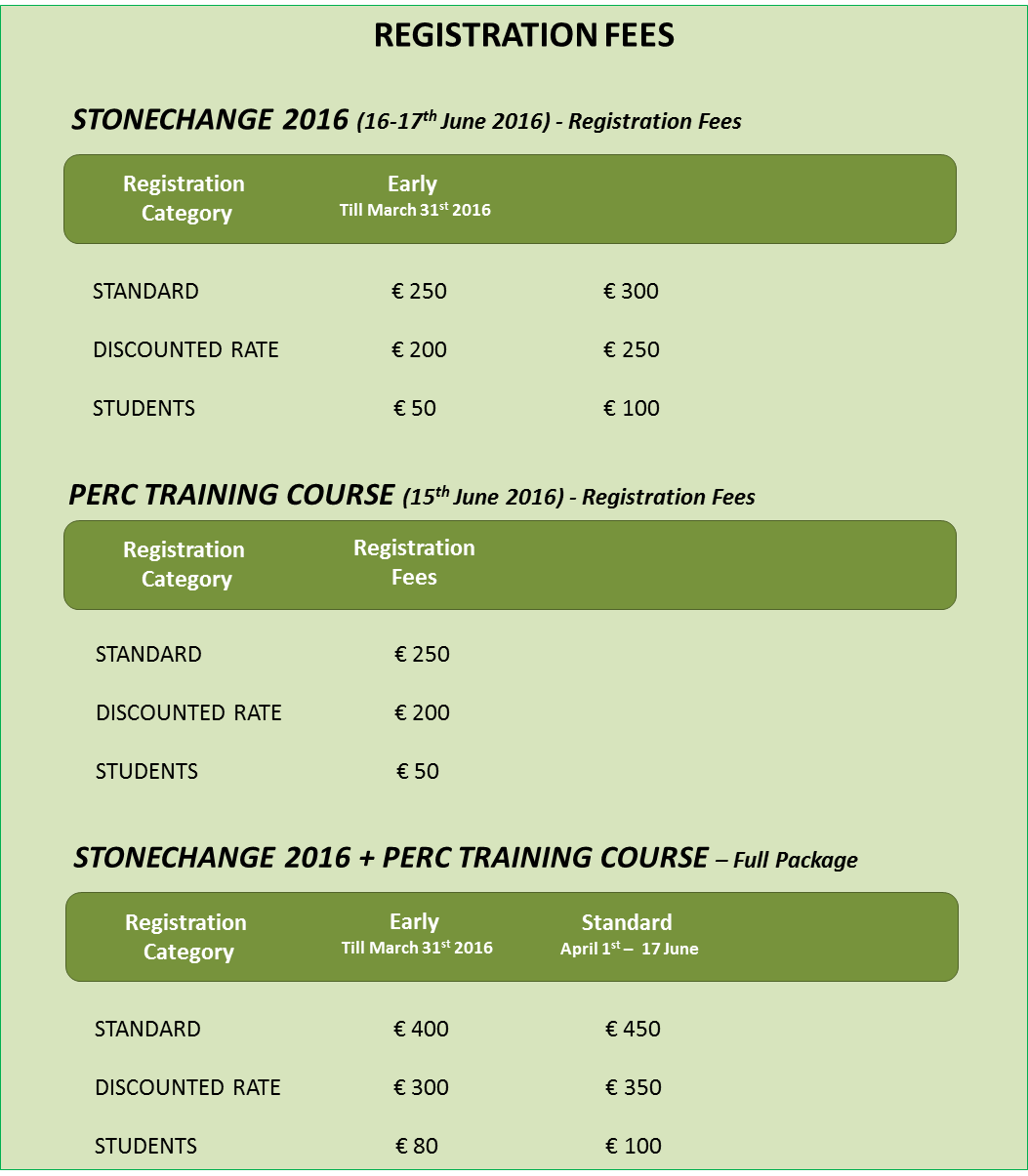 The STONECHANGE 2016 conference registration fee includes:
A participant folder

Access to all official conference sessions on website (after the Event)

Coffee breaks and lunches the 16th and 17th June 2016

Shuttle transfer from and to Pisa Airport

Shuttle return transfer from Hotels (§) and Event venue

Field trip (afternoon 17th June) : Visit to Carrara Mines
The PERC TRAING COURSE registration fee includes:
A participant folder

Course Power Point presentation book

Coffee breaks and lunches the 15th June 2016

Shuttle transfer from and to Pisa Airport

Shuttle return transfer from Hotels (§) and Event venue
Methods of Payment
Three methods of payment are available:
A. By credit card and PayPal (recommended method)
As regard Pay Pal please Click the "Add to cart" in the "register box" that appears when you click "Register" at the bottom of the registraton form page
We accept only Visa or Eurocard/MasterCard (AMEX and Diners cards are not accepted). The online system uses secure encryption to protect your card and personal details. Use the Registration Form and press REGISTER & PAY button. Please press the button "vai al pagamento" for payment by CREDIT CARDS or "Cassa Veloce PAYPAL" for payment by PAY PAL


B. By bank transfer
The bank transfer must be made out to :
INTERNAZIONALE MARMI E MACCHINE CARRARA SPA
Bank name: CARIGE S.p.A – Cassa Risparmio di Genova e Imperia
Address: Via Roma, 2 – 54033 Carrara (MS – Italy) - Ph. +39.0585.7661
SWIFT/BIC code: CRGEITGG350 - IBAN: IT10R0617524510000010554480
C. By phone
Please contact IMM Carrara at +39.0585.787963 or direct (Marco Ragone) +39.0585.1812443
As a proof of payment, a copy of the bank transfer must be sent by fax to the Conference Secretariat or by email to: m.ragone@immcarrara.it and/or secretariat@stonechange2016.com.
Registration will be validated upon receipt of the proof of payment.
Do NOT forget to indicate the first name, last name and affiliation of the participant on the bank transfer order. Bank transfer charges have to be paid by the registrant.
Once registration is validated, registrants will receive a detailed invoice and an acknowledgement letter by e-mail.
Registration by phone or by fax will not be processed.
For any question, please contact Conference Secretariat (see Contacts)
Cancellation
All cancellations must be notified by e-mail to the Conference Secretariat. The following conditions will be applied:
- before April 30th 2016: a 25% cancellation fee will be withheld for administrative fee
- between April 30th and 31st May 2016 : a 50% cancellation fee will be withheld for administrative fee
Note: Reimbursement will be processed after the conference.
- after May 31st 2016: no refund.
Substitution
If you are unable to attend the conference, you can request the transfer of your registration to another participant by notifying the Conference Secretariat in writing by e-mail, before the conference.
Liability
With paid registration, the participant to STONECHANGE 2016 and PERC TRAINING COURSE acknowledges that he/she has no right to lodge claims against the conference organizers should the meeting be altered, hindered, or prevented by unexpected political or economic events, unpredictable forces of nature, speaker cancellations or other unforeseeable events.
Insurance
The organizers of STONECHANGE 2016 and PERC TRAINING COURSE do not accept any responsibility for individual medical, travel or personal insurance. Participants are strongly advised to have their own travel insurance policies to cover risks including (but not limited to) loss, cancellation, medical costs and injury. STONECHANGE 2016 and/or the conference-course organizers will not accept any responsibility for any delegate failing to take out adequate insurance.