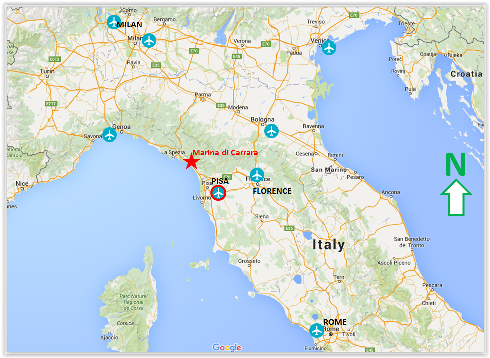 The Conference "STONECHANGE 2016" will be held at the conference hall of Internazionale Marmi Macchine Carrara (IMM Carrara), Marmotech Fair Area, Via Galileo Galilei, 133 – Marina di Massa (Massa Carrara-Italy), the 16-17th June 2016.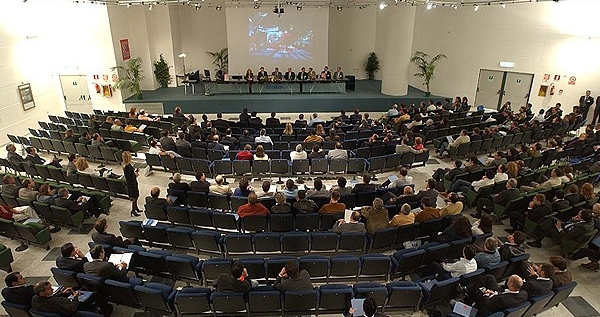 IMM Carrara Conference Venue can be reached :
- by Air: the nearest airports are Pisa "G.Galilei" and Florence airports. A round trip Conference Shuttle Bus will operate (four/five times a day-time schedule will be communicated later) from Pisa Airport to Hotels and Conference Venue (duration : 45'). Pisa is connected with the main western-central EU airports (Paris, London, Madrid, Barcelona, Valencia, Rome, Brussels, Frankfurt, Berlin, Munich, Lisbon, Bucharest).
Other main airports in northern Italy, connected by railway to Carrara are : Florence (1,5 hours), Rome (2,5-3 hours), Milan (2,5-3 hours), Bologna (3 hours) Venice (4,5 hours).
From Florence airports to Pisa airport is also available a public shuttle bus (6 per day). Check on Internet.
- by Car : Marina di Carrara is one hour away from Florence to East ( motorway ……) and Genova to the North ( motorway A12 Genova-Livorno). Distance from Milan (Motorway A7 and A12) is around 2.5 hours, and 4 hours from Rome (freeway via Civitavecchia-Livorno) and Venice (motorway A4-A13-A1-A15-A12).
Rent-a-car agencies are available at any airport and the main towns.
- By public Bus from Pisa Airport
- by Train : mainline trains connect to Carrara-Avenza Railway Station from Milan, Rome and Florence. Taxi and bus connect Carrara Railway Station to IMM Carrara Fiere venue location.

LOCAL CONFERENCE TRANSPORT - Conference Shuttle Bus Service
The Conference Organization will make available to all participants a special dedicated BUS Shuttle Service, included in the registration fee.
A. Round trip Shuttle Bus Pisa Airport - Hotels of Area A (Forte dei Marmi) - Hotels of Area B (Marina di Massa) – Conference Venue in Marina di Carrara, on 14,15,16,17 and 18 June 2016. 4-5 trips a day.

B. Daily return shuttle bus from Hotels of area A and area B to Conference Venue, on 15,16,17 June 2016:
- departure 08.30 a.m, from Hotels to Conference Venue in Marina di Carrara
- departure 17.30, from Conference Venue to Hotels
C. On 17 June 2016 at 14.00 a Bus will leave from Conference Venue for the FIELD VISIT to Carrara quarries. The same Bus will return to the Conference Venue at 17.30.
Map with location of Hotels areas (blue circles) and Carrara marble district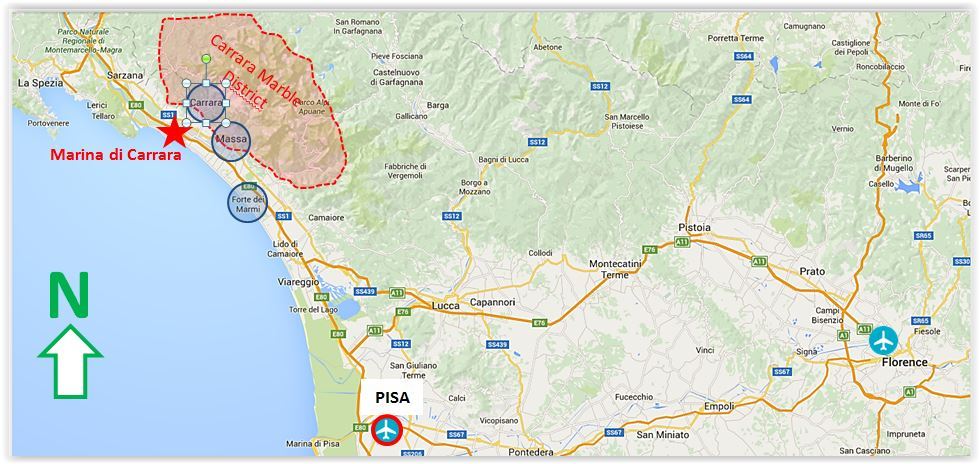 Several Hotels are available in Carrara District; in particular in Marina di Massa (Hotel area B) and Forte dei Marmi (Hotel area A), some 3 *** and some 4**** Hotels have been pre-booked by the Organization and made available for registered participants to the Conference, that will make reservation before 15 May 2016 (see Registration Form). Moreover some other Hotels are also available in Carrara and in Marina di Carrara.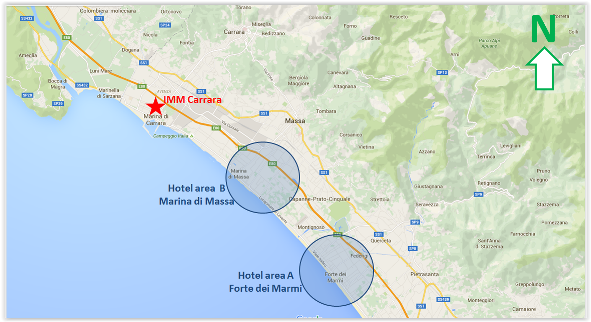 The pre-booked Hotels, stops of Conference shuttle bus, are:
Area A - Forte dei Marmi
o HOTEL VISCARDO (http://www.hotelviscardo.it/)
T. +39.0584.787188 F. +39.0584.787026
E-mail: info@hotelviscardo.it
o HOTEL GOYA (http://www.hotelgoya.it)
T. +39.0584.787221
E-mail: info@hotelgoya.it
o GRAND HOTEL
T. +39.0584.787431 F. +39.0584.787515
E-mail: bookinggrandhotel@bluhotels.it
Area B – Marina di Massa e Cinquale
o HOTEL EXCELSIOR (http://www.hotelexcelsior.it/)
T. +39.0585.8601 F. +39.0585.869795
E-mail: info@hotelexcelsior.it
o HOTEL EDEN (http://www.edenhotel.it/)
T. +39.0585.807676 F. +39.0585.807594
E-mail: info@edenhotel.it
o HOTEL VILLA UNDULNA (http://www.termedellaversilia.com/)
T. +39.0585.807788 F. +39.0585.807791
E-mail: hotel@villaundulna.it

OTHER 2-4 HOTELS WILL BE ADDED SOON
PLEASE, BOOK CONFERENCE PRE-BOOKED HOTELS VIA DIRECT CONTACT (see above) OR VIA USUAL INTERNET HOTEL BOOKING BROWSERS AS SOON AS POSSIBLE
See also the Website www.carraramarmotec.com ("visiting" in the top menu), for other Hotels, anyway NOT served by the Organisation Shuttle Bus Service. We advise to search these hotels close to the pre-booked Conference Hotels of Area A and B, to be in position to use Conference Shuttle Bus Stops.


SOME OTHER AVAILABLE HOTELS IN MARINA DI CARRARA AND CARRARA, VERY CLOSE TO THE EVENT VENUE, AT WALKING OR TAXI DISTANCE (many others are available in booking.com):
HOTEL MICHELANGELO **** (www.michelangelocarrara.it) – Carrara (3 Km from Conference Venue )
T. +39.0585.777161/2 F. +39.0585.74545
E-mail: info@ michelangelocarrara.it
HOTEL & RESIDENCE EXCLUSIVE *** (www.exclusivecarrara.com) – Marina di Carrara (400 m)
T. +39.0585.789263 F. +39.0585.55871
E-mail: info@ exclusivecarrara.com
B & B VENEZIA – Marina di Carrara (300 m)
T. +39.334.3383600
HOTEL MORGANA *** (www.hotelmorgana.it) – Marina di Carrara (100 m)
T. +39.0585.785545 F. +39.0585.774479
E-mail: info@ hotelmorgana.it
HOTEL TENDA ROSSA ** (www.hoteltendarossa.com) – Marina di Carrara (100 m)
T. +39.0585.787435
E-mail: info@ hoteltendarossa.com
B & B RESIDENZA MARINA (www.residenzamarina.it) – Marina di Carrara (300 m)
T. +39.339.2292253
E-mail: info@ residenzamarina.it
HOTEL ATLANTIC (www.atlanticilristorante.it) – Marina di Carrara (1300 m)
T. +39.0585.630018 F. +39.0585.788481
E-mail: info@ hotel-atlantic.it
Many B&B close to Conference Venue (Fiera di Carrara) can be found also at:
http://www.bed-and-breakfast.it/it/vicino/fiera-di-carrara
Badge Your name badge, issued to you when you register, must be worn to all conference sessions and social events for identification and security purposes.
Non‐Smoking event Smoking is not permitted anywhere inside the IMM Carrara Conference Center and other rooms. Outside smoking is allowed. Smoking is prohibited by law in Italian restaurants and bars.
Language The official language of STONECHANGE 2016 is English. Simultaneous Translation English-Italian will be available if a minumu number (n.25) of requests will be reached.
Internet access Free Wireless Internet access will be provided throughout the IMM Conference Center and in most of the selected Hotels.
Coffee & Tea Breaks. They are included in the registration fee and are scheduled according to the programme and will be served near the Conference Room
Lunch Breaks. Two Conference Buffet lunches are included in the registration fee. Lunch on day 2, before the Field Visit, will be a quick snack. There are also small cafes and standard restaurants in Marina di Carrara, very close to the Event venue.
Special Dietary Requirements . In all coffee breaks and lunches during the Event, vegetarian food will also be served.
Insurance Registration fees do not include personal, travel or medical insurance of any kind. Delegates are advised when registering for the conference and booking travel that a travel insurance policy should be taken out to cover risks including (but not limited to) loss, cancellation, medical costs and injury.
STONECHANGE 2016 and/or the conference organisers will not accept any responsibility for any delegate failing to insure.
Climate In Carrara, in June, the average temperature ranges between 25 – 32 °C. June is the beginning of Summer with often sunny weather, although rainfall is possible, too. Light clothing and light rainwear are suggested.
Time Zone Italian Standard Time (IST) is Central European Time Zone and it corresponds to UTC/GMT +1:00 hours. Italy has daylight savings time.
Tipping There is no usual tipping in Italy. Customers pay the exact amount that appears on the bill. Italy has a 22% consumer tax (VAT) nationwide on all goods and services. All published prices (including restaurant menus, taxi fares, supermarket prices) include consumer VAT (see next point).
Tax VAT in Italy is the value‐added tax. It is an indirect tax on all business transactions involving goods and services, and is also known as "imposta sul valore aggiunto" or IVA. The VAT is applicable for all countries in the European Union and is different for each country. Italy's VAT for business transactions and purchases is 22 percent, and the tax for basic products 4 to 10 percent. The VAT is only paid by European Union consumers. Non‐EU citizens who spend more than 180 Euros in goods at one time will receive a reimbursement of the tax before departure at an international airport. Exemptions Suppliers and distributors of goods may deduct the input VAT. Exported goods are also exempt from taxation.
Electrical Current AC line (mains) voltage in Italy is 220 volts nationwide and AC frequency is 50 Hz. Power outlets are rounded, parallel 2 prongs, sometimes 3 (see photo).
Main Power Sockets in Italy
Passport Visitors from EU countries must have a valid national ID card to enter Italy. Visitors from other countries must have a valid passport.
Visa Information, Entering Italy. All non EU foreigners intending to enter Italy must provide the documentation required to justify the reasons and duration of their stay as well as, in some prescribed cases, the availability of adequate economic means and lodging. In many cases just showing the registration to the Conference is enough to get the Visa. In some cases you need a visa, application for which can be made at the Italian Diplomatic and Consular Representations in your country of residence.
Do you need a visa ? Visit the web site ( www.esteri.it/visti/home_eng.asp ) to: • find out whether, depending on your citizenship, country of long‐term residence, and the duration and reasons for your stay, you need a visa to enter Italy • find out which documents are required in order to apply for your visa. Be advised: presentation of the documentation requested does not necessarily ensure issuance of the visa

Where to apply for a visa ( www.esteri.it/visti/rilascio_eng.asp ), List of Italian Embassies and Consulates. Please note that Honorary Consulates do not issue visas. Their sole task is to supply information and/or receive visa applications on behalf of the Consulate to which they are subordinate.
Note: please inform the Organisation in time if you'll need an "ad hoc" letter.
Visa Fees Important information for foreigners:
• when entering Italy, even if you have already obtained a visa, the border authorities are authorised to check the documentation required for obtaining the visa itself.
• pursuant to article 4, paragraph 2 of Consolidated Text no. 286/98 and subsequent amendments, concomitant with the issuance of your visa you will receive a written communication from the diplomatic or consular authority illustrating the rights and obligations associated with your entrance and stay in Italy, with particular regard to the procedures envisaged for requesting a "Permesso di soggiorno" (permission to stay) or the issuance of a "Dichiarazione di presenza" (statement of presence).
For further information on entrance visas for Italy and the Schengen area click
www.esteri.it/MAE/EN/Ministero/Servizi/Stranieri/IngressoeSoggiornoInItalia.htm.
For some countries a visa is required. Italy is a signatory to the 1995 Schengen Agreement. For more information, please contact the nearest Italian Embassy, Consulate or Travel agent in advance. Information about visas is available on the website: www.esteri.it/visti/index_eng.asp
Non‐Smoking Policy The Italian smoking laws prevent smoking in enclosed public spaces. It is therefore not acceptable to smoke in restaurants, bars and other public venues. There may be designated smoking areas. In outside areas smoking is generally allowed.
Shop Opening Hours All banks and most shops are closed on National Holidays Shops Mon 15:30 ‐ 20:00 Tues ‐ Sat 10:00 ‐ 13:00 and 16:00 ‐ 20:00 (17:30 on Sat) Some shops are also open on Sundays, but most small shops will be closed! Banks 08:30 ‐ 13:30 and 15:00 ‐ 16:00 (Mon ‐ Fri) (Times vary from bank to bank ‐ some may open Saturday morning) Post Offices 08:15 ‐ 13:30 (Mon to Fri) / 08:15 ‐ 12:30 (Sat) Some central post offices; Restaurants Open between 12:00 ‐ 14:30 and 19:00 ‐ 23:00
Emergencies Police Phone: 113 Carabinieri Phone: 112 (European emergency number); Questura/Police offices (Via del Patriota, 1 – Massa MS- Ph. 05854941; Fire Brigade Phone: 115; Urban police Emergency calls Phone:0585630119; ACI car breakdown service Phone: 116; Medical emergency service Phone: 118
Medical Assistance Medical emergency service Phone: 118 In the case of medical emergencies, there is a 24 hours Medical Service, English, German and French speaking practitioners and specialists on call 24 hrs (specialists by appointment). Hospital and Surgery Opening times: All days 24/24 (Piazza Sacco e Vanzetti - Carrara ; Carrara H Ph. 05854931; Massa H Ph. 05856571).